Taipei for Geeks - 8 things to do (and not to do)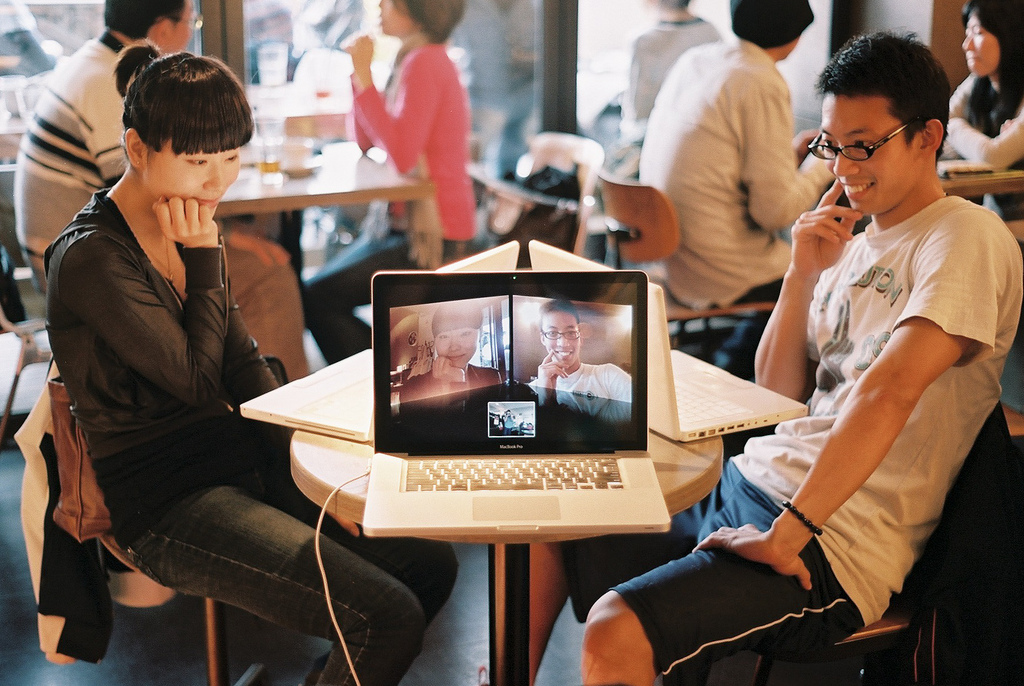 (image: cc)
Taiwan (台灣) is one of the countries everybody has heard of - at least subconsciously. There is a high chance that you are reading these lines on a device that is either directly "Made in Taiwan" or that is "Made in China" by a Taiwanese company. As just one example, almost all iPhones are made by the (in)famous Foxconn company, which is headquartered near the capital of Taiwan - Taipei (台北, pinyin: Táiběi).
And now you are really in Taiwan and  have a free day in Taipei. And your are a geek. Here are some suggestions on what to do (and equally important: What not to do).
If you would not be a geek, you could go visit the famous National Palace Museum and look at a great collection of historic Chinese art, have a stroll in the park that surrounds the Chiang Kai‑shek Memorial Hall, or visit the new 228 Memorial Museum that commemorates the tragic events during Chiang Kai-shek's iron fist rule. But as a geek, you want to get in touch with the technology scene. Here is your itinerary:
(1) Taipei 101
You want to build the world's highest Skyscraper in a place with regular earthquakes and typhoons? Then you better get your statics right. As famous as this building is now, it had its critics in the planning stage. But now, after some years in with many typhoons and some earthquakes under its belt, it seems they knew what they were doing.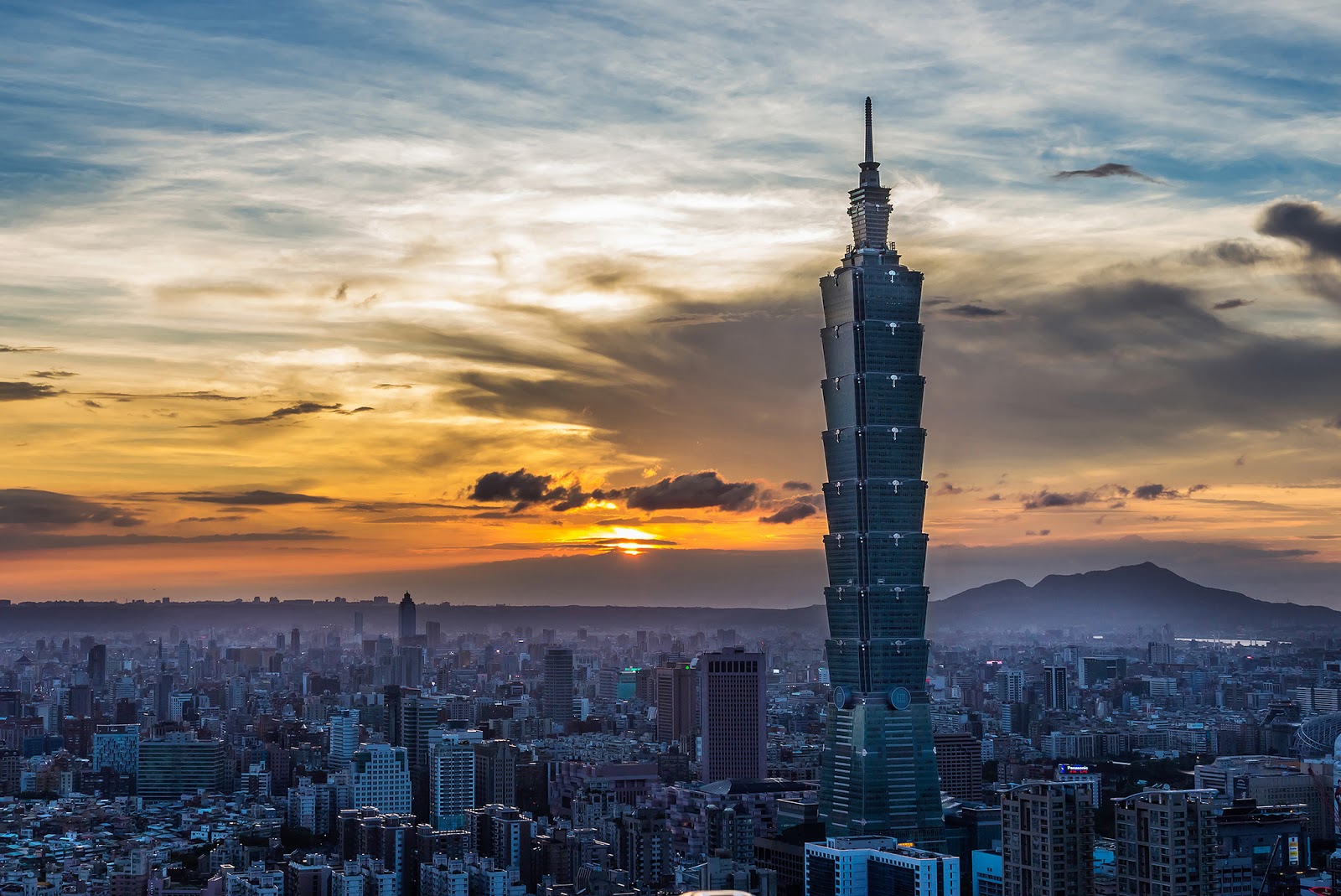 (image: cc)
In pure height Taipei 101 has been overtaken by the Burj Khalifa in Dubai since 2010. But it is - in the author's opinion - the most elegant high-rise building of all. And it still boasts the world's fastest elevators and a fantastic all-round view from its indoor observatory deck on the 88th floor.
But the geekiest part is its internal "tuned mass damper" (728 tons). Just two weeks ago it swayed more than it ever has before during Typhoon Soudelor. The massive damper moved a full meter from its central position at the tower's top in an effort to keep Taipei 101 upright during the early morning storm's ~200 km/h winds.
You can visit the section with the damper as part of your visit to the Observatory Deck.
(2) Have coffee at the world's highest Starbucks
No, I am not talking on the Starbucks on the ground floor. There is a small Starbucks with a great view on the 35th floor of Taipei 101, hidden like any true insiders' tip.  On your way, you also get a nice peak at the non-touristy parts inside of Taipei 101. I don't think this Starbucks was planned for the many people working in building, not as a tourist attraction.
How do you get there? Learn Mandarin and then call  +886 2 8101 0701 to make an appointment. Here are some detailed instructions - but it is not as difficult as it sounds. You can also call directly from the lobby of Taipei 101, there are plenty of PC terminals that allow you to call the various companies in the building - including Starbucks. When I went there, during a regular weekday, I got a free slot only two hours later.
(3)  Eletronic shopping browsing at Guang Hua Digital Plaza
Wikipedia describes this place as follows:
The Guang Hua Digital Plaza building today consists of six stories above ground and one story below ground. The first story above ground is an exhibition space for electronic products. The second and third stories are the new locations for the 196 vendors of the original Guang Hua Market. The fourth and fifth stories are the new locations for the vendors of Xining Guozhai Electronics Market. The sixth floor is reserved for repair shops, education classes, and offices. The basement floor is parking. The market attracts tens of thousands of visitors each day.
This is the place to go if you want to browse PCs, laptops, more laptops, computer and all kinds of computer and electronics gadgets. The selection is great. You can put your hands on every kind of brand you can think of (including Dell). But… see my "What not to do" note below.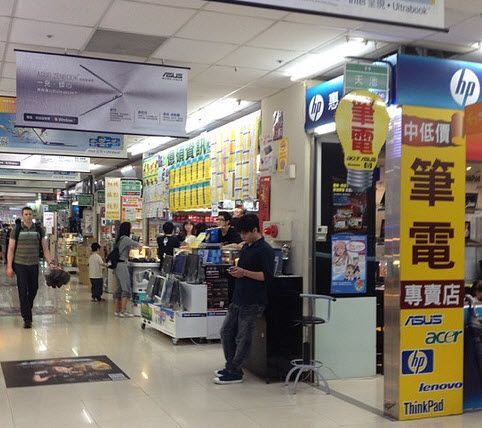 (image: cc)
Insiders' tip: There is a new building ("SynTrend") that has a much wider selection. It is like an Apple Store with 12 floors. This building just opened its doors in May 2015 and most travel guides do not mention it (yet). If you have limited time, go there first.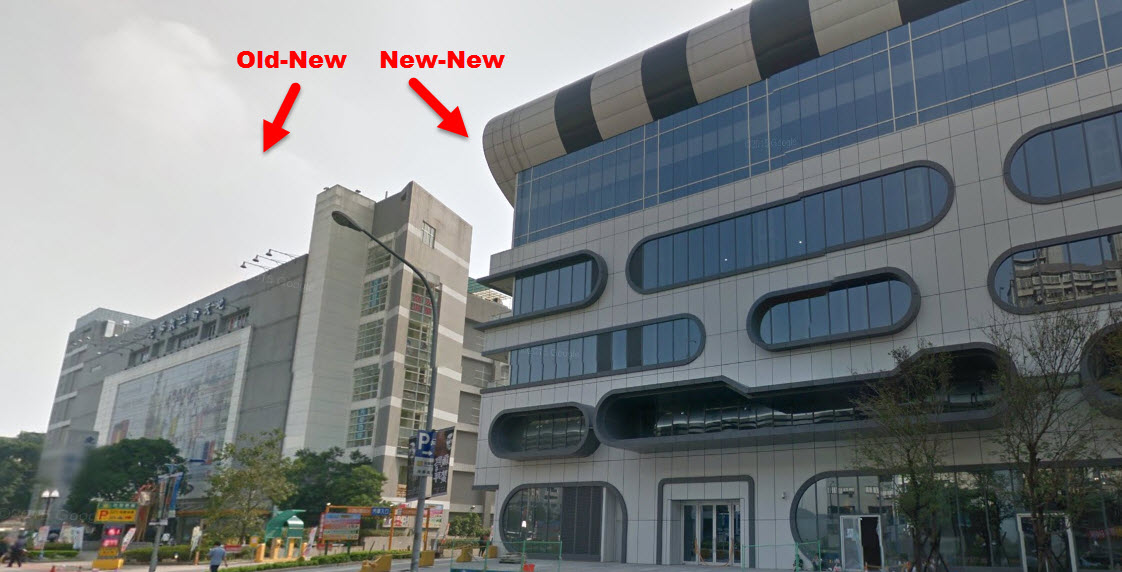 If you are hungry, there is a good food court in the basement of the SynTrend building. You get the point, food is very important in Taiwan. Which leads us to our next point…
(3)  Eat at some geeky restaurant
Taiwan is the place for foodies. Food is very reasonably priced in Taiwan and the selection is amazing. I have yet to find a country with a better and fresher selection. It is the place to go out to eat. Go on diet before or after your visit, but not during your stay. There is a variety of themed restaurants that caters to a geek audience. Many of these places come and go, so I link to some related blogs instead:
For 2015 I recommend Kura (new!)  - Sushi on a conveyor belt. You order via touch screen - and the sushi arrives on the belt. Highly recommended for geekiness and taste/freshness. Reservations usually required.
(4) …
No (4)… :-)
(5) Visit a great bookstore
Geeks like bookstores, or? If so, then enter "Eslite" into your smartphone to find the nearest one. In Chinese the name is 誠品書店/pinyin: Chéngpǐn Shūdiàn. This Taiwanese company runs a chain of great bookstores all over Taiwan.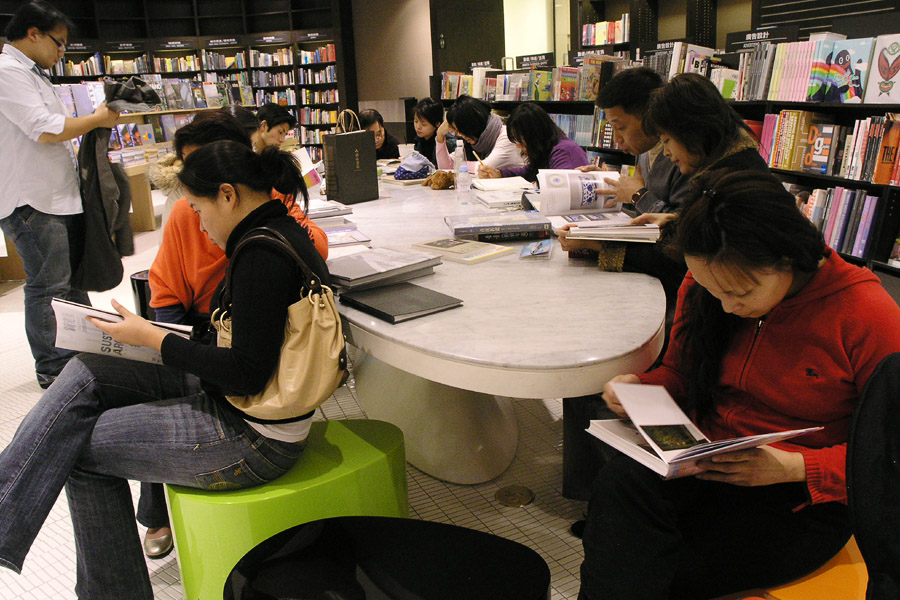 (image: cc)
In Taipei they have some really nice ones - and the biggest one is the XinYi Store in, well, Xinyi district. As one reviewer on Tripadvisor described it _"It's more like a bookstore themed mall.". _Their flagship XinYi bookstore stretches over many floors and features both fiction/non-fiction, food and other items. Obviously most books are in Chinese, but they also have a good selection of English books, many of them dealing with China and Taiwan from all kinds of viewpoints. It is also a great place to buy quality souvenirs.
(6) Get whatever you need at "Seven"
Make sure you visit a 7/11. This is easy. They are everywhere in Taiwan. Even in the airport. So if you only have a few minutes on Taiwanese soil, visit the airport "Seven" to get a crash course in Taiwan's culture. On 30 square meters you can observe what Taiwanese people eat, drink, read - and much more. It feels like they have everything. You can even buy train tickets there. Once you are there, try their tea eggs, a very typical Taiwanese snack. They do not taste as bad as they look.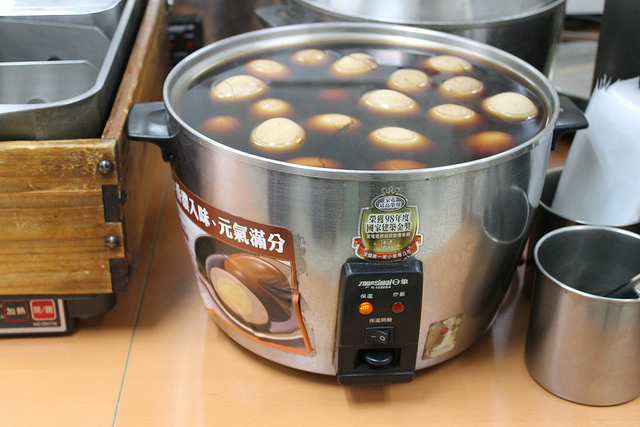 (image cc)
And yes, this is the American chain, but the stores in Taiwan have no resemblances to their US counterparts. They are thoroughly adapted to the local way of life, only the "Always open" slogan is the same. If you would not know it better, you would think 7/11 are a Taiwanese invention.
(7) Use Google Maps
Use your smart phone. Google maps works great in Taipei and Taiwan in general. Its routing includes all public transport schedules (train, metro, city buses,…) - an amazing piece of software.
(8) …and: Things not to do:
Taiwan is a great and safe country to visit. But there is one common source of disappointment I have seen many times. The thinking goes as follow: My laptop/mobile/gadget is made in Taiwan. Now I am in Taiwan, only miles away from all the factories. This surely must be the best place to buy electronics cheap?
Short answer: No
Longer answer: Still no. I have been in Taiwan plenty of times and have yet to see a single good deal. It is a great place to window-shop electronics, but no matter where you look, the prices for Taiwanese brand-name electronics like Asus, Acer or HTC  are the same as in the US or Europe, plus/minus some percent due to exchange rate fluctuations.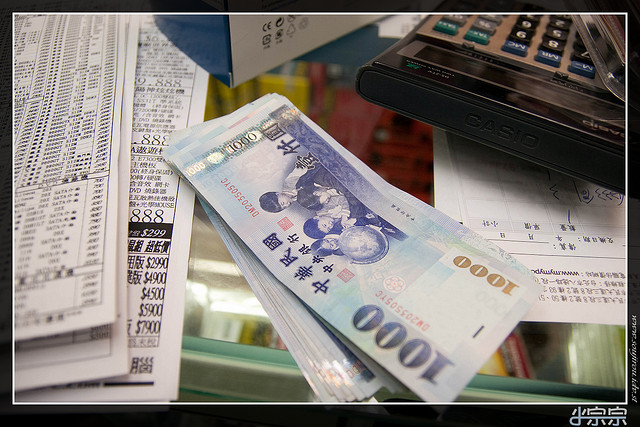 (image: cc)
So: Don't ruin your visit stressing over the hunt for "good deal". Instead, enjoy the country, the people and the great food.