Copyfish 🐟
Grab Text from Images
Copyfish: Copy, paste and translate text from any image, video or PDF.
Do you need to extract text from images, videos or PDF? If yes, then the Copyfish 🐟 free OCR software is for you. Common reasons to extract text from images are to google it, store it, email it or translate it. Until now, your only option was to retype the text. Copyfish 🐟 is soooo much faster and more fun. "Images" come in many forms: photographs, charts, diagrams, screenshots, PDF documents, comics, error messages, memes, Flash – and Youtube movies.
Download Copyfish
Copyfish runs in Chrome and Firefox:

Copyfish for Chrome

Copyfish for Firefox

Both versions are identical, except for the desktop capture OCR feature, which is not yet supported by the Firefox browser.
Add Desktop OCR support
To add the free desktop OCR support, install the UI.Vision XModule (the link goes to our UI.Vision website). The XModule is a small app that helps Copyfish to take the screenshot. It is available for Windows, Mac and Linux. If you only want to OCR content inside the web browser, this is not required.
How to take desktop screenshots?
To trigger the desktop capture, right-click the Copyfish icon and select Desktop Text Capture. This screencast shows it:
The desktop screenshot is loaded inside the Copyfish in your local browser. It never leaves your machine, and is not send to any cloud service. Now that the image is displayed in your browser, everything works as in the web mode: Click the Copyfish icon in the toolbar and select the text to extract, and then Copyfish does its work.

A second method to take a desktop screenshot is to switch your browser to a "non-Web" tab. So you can open a new tab, or go e. g. to chrome://extensions/ - then the Copyfish turns green. A green Copyfish icon means that Copyfish is in desktop OCR screenshot mode.
Tech support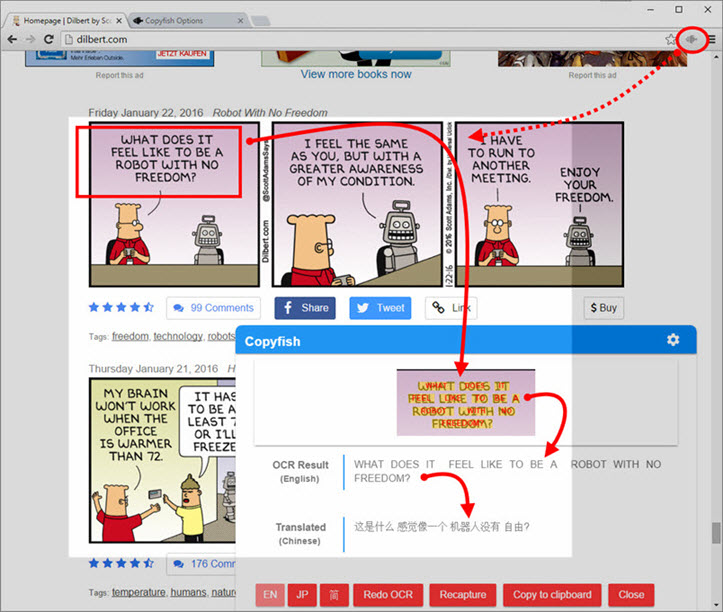 For more information see the Copyfish help page or watch the short screencast below:
Copyfish has a Getting started page. If you have questions, please use the contact form. We love to hear from you. And even so this is a free Chrome extension, we read all emails and typically respond within 1-2 days.
Copyfish Free, PRO and PRO+
Often requested, and now available: In addition to the well-known free OCR.space OCR option, Copyfish offers now the option to use an even better PRO OCR service for OCR. For translation, we integrated Google Translate, the best translation service available. The PRO and PRO+ plans are available as monthly subscription. All paid plans include a free 7-day trial. If you cancel within the first seven days your payment is automatically refunded. You have a 100% money-back guarantee.
Copyfish Plans:
Free Plan
PRO Edition
PRO+ Edition
Price
Active with installation,no sign-up required
US$ 19.95/month,100% Money-Back Guarantee
US$ 29.95/month,100% Money-Back Guarantee
Standard OCR - Best Free OCR available
Yes
Yes
Yes
Automatic OCR language detection
-
Yes
Yes

PRO Vision OCR

(best OCR, supports even hand writing)
-
Yes
Yes

Google Translate

(very good translation service)
-
-
Yes
Support
Forum
Forum, Email
Forum, Priority Email
Get Copyfish:
Download Copyfish
Subscribe now
Subscribe now
If you have any question on what is the right plan for you, please contact us. We offer discounts for students, universities and non-profit organizations, just ask us.
What is the difference between Standard and PRO OCR?
The PRO OCR plans use 100-times more processing power. This means that the conversion is faster and the results are significantly more accurate than with our free standard OCR plan. The PRO OCR hardly gets any character wrong, and it can even read handwriting. Below you find a short comparison of the standard and PRO OCR results with three examples. But you don't have to take our word for it. You can test PRO seven days for free.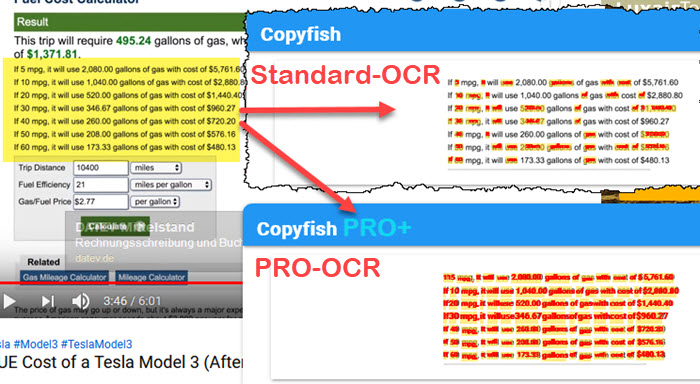 OCR of text from inside a Youtube video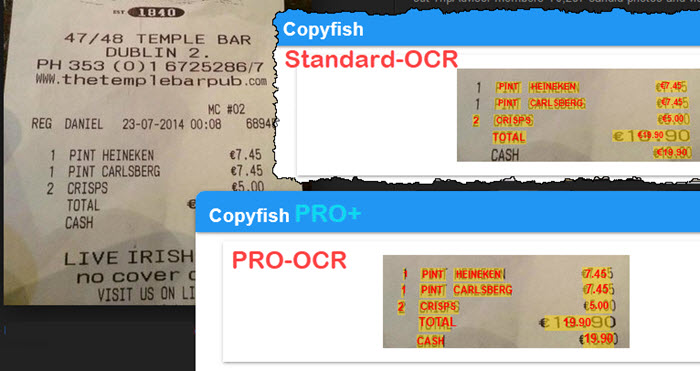 OCR of data from a receipt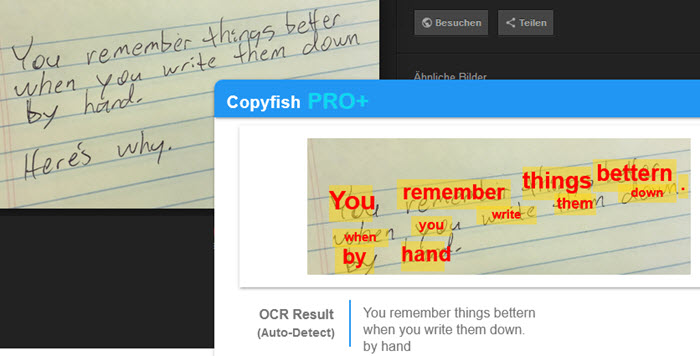 OCR of a handwritten note. Standard OCR can not read handwriting at all. PRO OCR also auto-detects the OCR language(s) and works well with mixed language documents.
Still unsure if PRO OCR works for you? => Subscribe now, the first 7 days are free (Cancel anytime).
☛ Share Copyfish
The more people use Copyfish, the better it becomes over time. Please help making Copyfish better by sharing it on Facebook, Twitter,... - or by giving it a good rating on the Copyfish extension pages in the Chrome and Firefox addon galleries.