Copyfish 🐟
Grab Text from Images
Copyfish: Copy, paste and translate text from any image, video or PDF.
Do you need to extract text from images, videos or PDF? If yes, then the Copyfish 🐟 free OCR software is for you. Common reasons to extract text from images are to google it, store it, email it or translate it. Until now, your only option was to retype the text. Copyfish 🐟 is soooo much faster and more fun. "Images" come in many forms: photographs, charts, diagrams, screenshots, PDF documents, comics, error messages, memes, Flash – and Youtube movies.
Download Copyfish
Copyfish runs in Chrome, Edge and Firefox:

Copyfish OCR for Chrome

Copyfish OCR for Firefox

Copyfish OCR for Edge

All versions are technically identical, including the desktop capture OCR feature.
Add Desktop OCR support (Screenshot Reader)
Extract text from opened documents (e. g text and tables from brochures and leaflets that are only available as graphics), file menus, browser extensions, Web pages, presentations, games, or PDF files with a few clicks. The Copyfish Screenshot Reader turns text within any image captured from your screen into an editable format without retyping – making it easy to reuse in digital documents, emails or reports.

To trigger the desktop capture right-click the Copyfish icon and select Desktop Text Capture.
To add the free desktop OCR support to your Copyfish, install the UI.Vision XModule (the link goes to our UI.Vision RPA software website). The XModule is a small app that helps Copyfish to take the screenshot. It is available for Windows, Mac and Linux. If you only want to OCR content inside regular web pages, installing this native app is not required.
Copyfish Free, PRO and PRO+
In addition to the well-known free OCR options, Copyfish offers the option to use an even better PRO OCR service for OCR. For translation, we integrated Google Translate, the best translation service available. The PRO and PRO+ plans are available as monthly subscription. PRO = All features of FREE + Faster OCR (almost instant!) + Better OCR + More OCR Languages + Language Autoselect PRO+ = All features of PRO + High Quality Automatic Translation of Text to/from almost any language All paid plans include a free 7-day trial. If you cancel within the first seven days your payment is automatically refunded. You have a 100% money-back guarantee.
Copyfish Plans:
Free Plan
PRO Edition
PRO+ Edition
Price
Active with installation,no sign-up required
US$ 19.95/month,free 7-day trial
US$ 29.95/month,free 7-day trial
Standard OCR - Best Free OCR available
Yes
Yes
Yes
Automatic OCR language detection
-
Yes
Yes

PRO Vision OCR

(best OCR, supports even hand writing)
-
Yes
Yes
OCR Languages
25
89
89

Automatic Translation

(with best commercial translation service)
-
-
Yes
Support
Forum
Forum, Email
Forum, Priority Email
Get Copyfish:
Download Copyfish
Subscribe now
Subscribe now
If you have any question on what is the right plan for you, please contact us. We offer discounts for students, universities and non-profit organizations, just ask us.
What is the difference between Standard and PRO OCR?
The PRO OCR plans use 100-times more processing power. This means that the conversion is faster (almost instant) and the results are significantly more accurate than with our free standard OCR plan. The PRO OCR hardly gets any character wrong, and it can even read handwriting. Below you find a short comparison of the standard and PRO OCR results with three examples. But you don't have to take our word for it. You can test PRO seven days for free.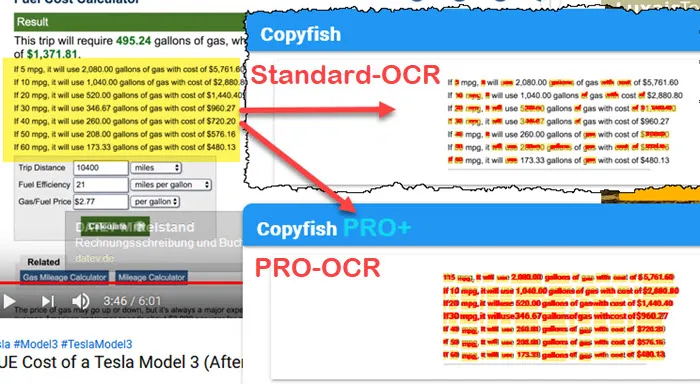 OCR of text from inside a Youtube video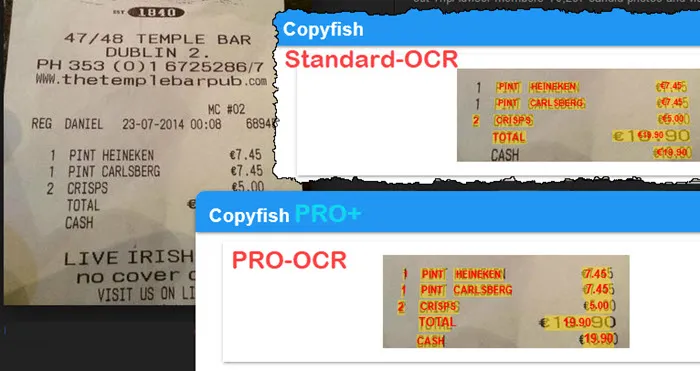 OCR of data from a receipt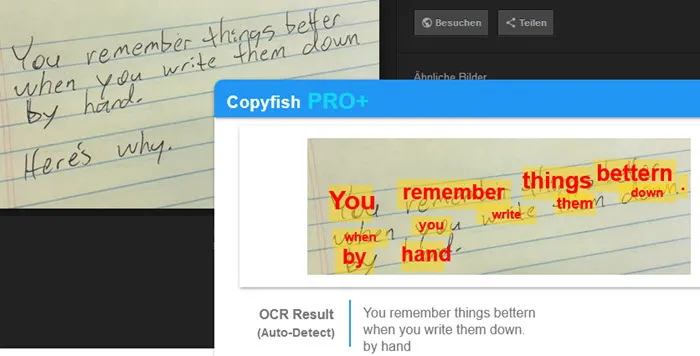 OCR of a handwritten note. Standard OCR can not read handwriting at all. PRO OCR also auto-detects the OCR language(s) and works well with mixed language documents.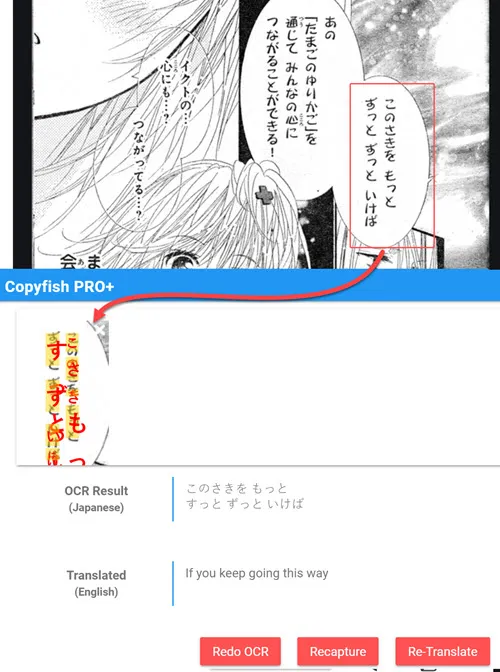 Translating vertical Japanese text e. g. from a Manga comic with Copyfish PRO+.
Still unsure if PRO OCR works for you? => Subscribe now, the first 7 days are free (Cancel anytime).
Copyfish OCR Language Support
Copyfish's language support comes close to the famous Babel fish, a fictional species of fish invented by Douglas Adams in his famous "The Hitchhiker's Guide to the Galaxy". The available OCR languages depend on the OCR engine. Engine 2 and the PRO/PRO+ engine have automatic OCR language detection.
Copyfish Engine 1: Arabic, Chinese OCR (Simplified and traditional characters), Bulgarian, Croatian, Czech, Danish, Dutch, English, Finnish, French, German, Greek, Hungarian, Italian, Japanese, Korean, Norwegian, Polish, Portuguese, Russian, Spanish, Slovenian OCR, Swedish, and Turkish.
Copyfish Engine 2: All Latin character based languages such as Danish, Dutch, English, Finnish, French, German, Italian, Polish and Portuguese.
Copyfish PRO and PRO+ OCR languages: Afrikaans (Afrikaans), Albanian (shqiptar), Arabic (العربية), Armenian (Հայ), Belorussian (беларускі), Bengali (বাংলা), Bulgarian (български), Catalan (Català), Chinese (普通话), Croatian (Hrvatski), Czech (Čeština), Danish (Dansk), Dutch (Nederlands), English (English), Estonian (Eesti keel), Filipino (Filipino), Finnish (Suomi), French (Français), German (Deutsch), Greek (Ελληνικά), Gujarati (ગુજરાતી), Hebrew (עברית), Hindi (हिन्दी), Hungarian (Magyar), Icelandic (Íslenska), Indonesian (Bahasa Indonesia), Italian (Italiano), Japanese (日本語), Kannada (ಕನ್ನಡ), Khmer (ភាសាខ្មែរ), Korean (한국어), Lao (ລາວ), Latvian (Latviešu), Lithuanian (Lietuvių), Macedonian (Македонски), Malay (Bahasa Melayu), Malayalam (മലയാളം), Marathi (मराठी), Nepali (नेपाली), Norwegian (Norsk), Persian (فارسی), Polish (Polski), Portuguese (Português), Punjabi (ਪੰਜਾਬੀ), Romanian (Română), Russian (Русский), Russian (Русский (старая орфография)), Serbian (Српски), Serbian (Српски (латиница)), Slovak (Slovenčina), Slovenian (Slovenščina), Spanish (Español), Swedish (Svenska), Tamil (தமிழ்), Telugu (తెలుగు), Thai (ไทย), Turkish (Türkçe), Ukrainian (Українська), Vietnamese (Tiếng Việt), Yiddish (Yiddish).
In addition to doing OCR, Copyfish PRO PLUS can instantly translate the extracted text from any of these language to any of these l languages! => Try PRO PLUS now, the first 7 days are free (Cancel anytime).
Tech support
For more information see the Copyfish help page or ask in the OCR software forum.
☛ Share Copyfish
The more people use Copyfish, the better it becomes over time. Please help making Copyfish better by sharing it on Facebook, Twitter,... - or by giving it a good rating on the Copyfish extension pages in the Chrome, Edge and Firefox addon galleries.