Your Copyfish
update

is completed
This page appears only once after the update to tell you what is new:
Important: The new features need new permissions, please accept them: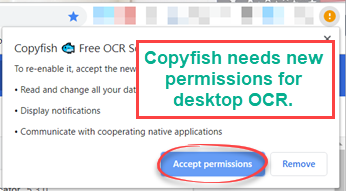 What's new in Version V4.0.2
This update adds desktop OCR and the Google translation button.
(1) OCR anything on your desktop: Copyfish can now do desktop screenshots and desktop OCR (screen scraping).
For desktop OCR you need to install the UI Vision XModule in addition to Copyfish. It adds the desktop screen capture feature to Copyfish. If you only want to OCR content inside the web browser, this is not required.
(2) Translate anything: Click the translation button to send your text to the Google translate website, where you can translate it for free. PRO+ continues to use the commercial Google Translate API, which does the translation directly in the software.
What's new in Version V3.0.8
Support for Chrome V73 and newer added. Improved PRO OCR and Google Translation.
What's new in Version V3.0.7
This update is the first of a series of Copyfish updates and improvements that you will see in 2019. If you have a specific feature in mind that you want to have added, please let us know.
Important: If you get the "Unable to capture screen. Please try again when the page has loaded" error after the update, please uninstall and reinstall Copyfish. This will fix the issue. But if it still does not work, please contact us. Sorry about this issue. The good news is that improved web page screenshots and a new desktop screen capture feature will be available soon.
Desktop capture is a different story: It stopped working a while ago due to an issue with Chrome itself. The good news is that we are working on a solution and should have it ready in a few weeks (February 2019). The new desktop capture feature will be even better than the old working version! And it will be available for Chrome and Firefox.
In addition to the well-known 100% free OCR plan, Copyfish offers now the option to use 100-times more OCR processing power for even faster and better text recognition. And for translation, we integrated Google Translate, the best translation service available. The PRO and PRO+ plans are available as monthly subscription. All paid plans include a 100% money-back guarantee. If you cancel within the first seven days your payment will be automatically refunded.
If you have any question on what is the right plan for you, please contact us. We offer discounts for students, universities and non-profit organizations, just ask us.
What's new in Version V2.9.6
Copyfish for Firefox: This update fixes the "Can not OCR a PDF anymore" issue that was caused by Firefox 60. The solution is that Copyfish now takes a screenshot of the PDF, and then you can select the text to OCR from the screenshot. This issue and update is only with Firefox. In Chrome nothing has changed, and Copyfish works directly with PDF documents.
What's new in Version V2.9.5
Copyfish for Chrome, Mac OS only: This update fixes the "Unable to capture screen" bug that showed up only on Mac OS.Dear Mac users, thank you for your patience while we debugged this ;-)
What's new in Version V2.9.3
This update fixes some user-reported issues
Thanks to everyone who wrote to us. Please keep the good ideas coming :)
What's new in Version V2.9.0
Support for Arabic OCR
Support for Firefox 57 Quantum
☛ Share Copyfish: The more people use Copyfish, the better it becomes. Please help make Copyfish better by sharing it on Facebook, Twitter,... - and by rating on the Copyfish extension pages in the Chrome and Firefox addon galleries.
For more information we have the Copyfish help page or watch the short screencast below:
Tech support
Email copyfish@ui.vision or use the contact form. We love to hear from you. And even though this is a free Chrome extension, we read all emails and typically respond on the same day.
If you like the extension, please rate it in the Chrome or Firefox galleries :-) And if you don't like it, please email us your feedback so we can improve it further. We can only fix bugs and issues reported to us.
For developers
Copyfish 🐟 is published under the GPL open-source license, you can find its source code on GitHub. As OCR software, it uses our free OCR.space OCR API and Online OCR service.